JAMB News
JAMB Admission Status Checking Portal 2023 for UTME & DE Candidates-www.jamb.org.ng
JAMB Admission Status Checking Portal for UTME & DE Candidates 2023 & Past Years-www.jamb.org.ng. Ever wonder how to check JAMB Admission Status? Then read this article. The Joint Admission and Matriculation Board, JAMB admission status checking portal is now live on jamb official website. Get the information you need, continue reading below.
The Joint Admissions and Matriculations Board (JAMB) is a Nigerian entrance examination board for tertiary-level institutions. The board conducts entrance examinations for prospective undergraduates into Nigerian universities.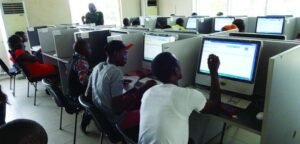 The Joint Admission and Matriculations Board (JAMB) has opened the portal for checking of admission status for the 2019/2023 academic session.
Joint Admission and Matriculation Board (JAMB) management has activated the portal where applicants for Direct Entry and UTME can now check or confirm their status for all years. The status check on the JAMB portal is completely FREE!
Yes, some schools may not even publish their list of admissions on a timely basis on their own site or notice board. The only way to know about candidates applying for admission to such schools are to check their admission status on the JAMB Admission Status Checking Portal.
How to Check Admission Status on JAMB Portal
Go to JAMB portal at http://www.jamb.org.ng/efacility/.
Login with your Email and Password.
Click on CAPS (on the left side of the page).
Select 'Admission Status' on the left panel.
You can now accept/reject your admission offer under 'Admission Profile'.
OR
Visit jamb.org.ng/efacility .
Login to your Jamb profile with your username and password.
After successfully logging in, scroll down then locate and click the 'Check Admission Status' tab.
Select your Exam year and Enter your registration number in the required column.
Finally, click on 'Check Admission Status' to access your admission status.
Recommended: JAMB CAPS Portal for Accepting/Rejecting Admission Offer.
IMPORTANT: Successfully admitted candidates are advised to ensure that they indicate the acceptance or rejection of admission online and timely to enable the processing of their admission.
It is important to note also that candidates who have been offered admission are to equally print their admission letter after accepting the admission, as they will likely need this during clearance and registration in the school that they have been admitted.
See Also: How to Print JAMB Admission Letter.
PLEASE NOTE: Candidates who used "awaiting result" during their registration are to upload their O'Level result on JAMB portal so that their institution of choice will be able to process their admission.
Recommended: See How to Upload O'Level Result on JAMB Portal / Profile 2023/2024.
Not offered admission yet? Keep checking the JAMB website for your admission status. Note that the Admission List will be published in batches on JAMB portal as they are processed.
Successfully admitted? Share you success story in the comments section below.
Best of Luck!
Quick Links o JAMB Update:
Past Question PDF Publishes the latest and most updated Past Questions and answers on Post UTME Past Questions and Answers PDF, School of Nursing Past Questions and Answers PDF, Recruitment Past Questions and Answers PDF, Scholarship Past Questions and Answers PDF.
If You Want More Information, please subscribe to our email list and leave a comment with your number below, also Follow us on Facebook, Twitter, and Linkedin
Disclaimer: Please note that we are not in any way affiliated to any of the organization's mention here. Some of the organizations here do not release their past questions, so we can only compile likely questions and answers very related to the organization.
For Inquiries on all Past Questions Call 07063986527.
Disclaimer: Please note that we are not in any way affiliated with any of the organizations or institutions here. All articles here are for the sole purpose of providing information. All Past questions are gotten from previous years' examinations and likely questions from the Internet and related exams. We are not in any way promising that what you find in the past questions is what you will find in your examination. We are not in any way responsible for how the reader uses the information here. Please do consult an expert or professional in your field should the need arise.

Copyrights Infringement: No article from this website should be copied without a proper reference and link to the page picked from. Anything otherwise will lead to legal action of copyright infringement. All articles on this website are products of painstaking research from our writers and journalist. Should you find any material bearing semblance here to any material on your page, please quickly notify us by sending a mail to infoatpastquestionpdf@gmail.com and we will immediately commence the process of taking it down.
Sponsored Links